I recently spoke with a prospective client who had recently lost her appeal hearing. I asked if she had been represented at the hearing. She replied that she was by on of the large firms, but went on to state "they didn't do anything but tell me to go to the doctor" I asked if she did go to the doctor in the year wait for her hearing. No she replied. There is no better primer on how to ruin your Missouri disability appeal than doing just that.
Now I'm not here to defend the disability factory firms but without medical evidence, there is little that any lawyer could do for her.
Is the medical evidence sufficient? You cannot have too much medical evidence. Many people frankly are living in denial that their annual trip to the doctor makes their case a "slam dunk". It is not. All disability cases are decided on the basis of medical evidence. The more medical evidence you have, the more your disability examiner must consider when making his or her determination. If you do not go to the doctor, it is difficult to obtain useful medical evidence to support your claim
The quantity and quality of your medical evidence influences the approval of benefits. Objective evidence, or evidence that is not based on your claims alone is the best. Examples of objective evidence would be MRI reports, biopsies, blood tests, X-Rays etc. The reason SSA likes this type evidence being these results are hard to fake or lie about.
The long and short of it is you must find treatment somewhere be it sliding scale treaters, Medicaid, coverage under the Affordable Healthcare Act i.e. Obamacare, the emergency room. Your local county health department is often a great source of help on this issue. Do not wait to start finding treatment as it can take considerable time.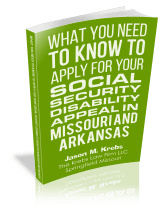 If you would like more information about avoiding these problems in the first place get my FREE ebook
(Don't worry I won't sell or give your email to anyone)
What can I do if I've been denied disability in Missouri?
If you have you recently been denied disability benefits in Missouri it is normal for you to feel discouraged about the process.  Do not give up, it's important to keep trying.  Take control of your situation by taking action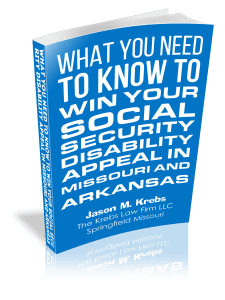 Use the wait to strengthen your case.  Document your medical complaints as much as possible
For my FREE ebook on how to use the wait to your advantage, just ask

(Don't worry I won't sell or give your email to anyone)

The Krebs Law Firm LLC offers a free case evaluation if you have questions about your Social Security disability claim. Many people may be worried that they do not have the money to pay for a Missouri disability lawyer or Arkansas or Missouri Social Security disability lawyer, but we only handle Social Security cases on a contingent fee basis. It is important to to remember that every case is different so you must find the best disability lawyer in Missouri to handle your case.
In other words, there is no fee unless we are successful in getting you the SSD benefits that you deserve. If you would like to speak to Jason Krebs and his staff simply call (417) 883-5886 for your free case evaluation or to discuss your appeal today! Do not delay as you only have 60 days to file for an appeal in Missouri or ask for a reconsideration if you live in Arkansas or Oklahoma.
Also, if you are wondering if location is an issue, I personally handle disability cases throughout all of Missouri and Arkansas.