Disabled and don't know where to start?
You Deserve a Top Social Security Disability Attorney.
Many misunderstandings exist about federal Social Security disability law, Social Security Disability in Missouri and Arkansas and the rights they provide. Jason M. Krebs at The Krebs Law Firm, LLC is committed to be the disability lawyer that can guide you through the maze of red tape, forms, appeals, deadlines and waiting that is Social Security Disability (SSD) and Supplemental Security Income (SSI). Our disability law firm will provide clear explanations about the various aspects of SSD and SSI and determine, along with you, the best approach to getting you the disability benefits you need. If you or a loved one is unable to work due to a serious illness or injury, we are ready to help you obtain disability benefits.
We believe you can help your case through a better understanding of the basics of Social Security disability law and will clarify common misunderstandings, including those related to:
What the Social Security Administration considers a disability
How Medicare and Medicaid relate to SSD and SSI
Whether SSD or SSI is based on a person's ability to continue in the current line of work or on the ability to obtain an alternate form of employment
We will provide you with the knowledge you need to make educated decisions as we move forward with your case.
Don't risk getting less than you deserve for your case. We're here to help.
You pay nothing until we win
Here are the different elements of what you'll experience during this in-depth consultation:
A Real, Live Face-to-Face Meeting
We'll meet face-to-face to discuss the specific details of your disability . You won't be filling out a web-based data entry form, sending an email, sitting on hold waiting for a real human to answer – you and I will sit down in a room and talk things through. We'll get to know each other the old-fashioned way – where we can share and learn from each other.
A Comprehensive Situational Assessment
I'll let you tell your story in your own words – you talk, I listen.
A Preliminary Documentation Review
I'll conduct a preliminary review of any supporting documentation you have that's relevant to the situation.
An Honest and Open Q&A Session
I'll answer any questions that you may have. I'll be open, honest, and do everything I can to answer your questions to the best of my ability.
Your Customized "Next Steps to Fairness" Proposal
Finally, after going over your situation, I'll lay out in clear, easy-to-understand language, what I see as the strengths and weaknesses of your claim. In addition, you'll walk away with specific suggestions on what I see as your best course of action moving forward.
Am I Just Out for Your Business?
Absolutely not. This is not a solicitation for your disability case. We spend a lot of time speaking with and giving guidance to people who contact our firm for general advice and guidance in Social Security disability cases. This free book is simply a way for you to get important information to read in the comfort of your home, and without the anxiety that may come with contacting a lawyer directly. Frankly, many times people do not need an attorney, and we tell them why. With our free materials, you should be well armed to determine if you need an attorney, and if so, to find the right attorney to represent you.
This is for informational purposes only and is not legal advice, as all claims are different and based on the facts of your particular case.
That's why I created a service I'm calling My 5 Point "Accept No Limits" Consultation – it has a real retail value of $299, but because I want to help as many people as I can get the answers they need during times of extreme hardship and difficulty, I'm making a limited number of these available at absolutely no charge. All you need to do is call my office at (417) 883-5886 or Toll Free (800) 345-0535 reserve your spot.
All Social Security Disability cases are handled on a contingency basis. This means you do not have to pay a fee for our services unless your claim is won. In addition, your case will be handled personally by an attorney, not an assistant.
The Krebs Law Firm LLC has made a commitment to helping people get the disability benefits they need to maintain their quality of life. Jason M. Krebs is available to help people in Springfield and the surrounding parts of Missouri and Arkansas successfully work through the SSD/SSI system.
Ordering this information does not create an attorney-client relationship.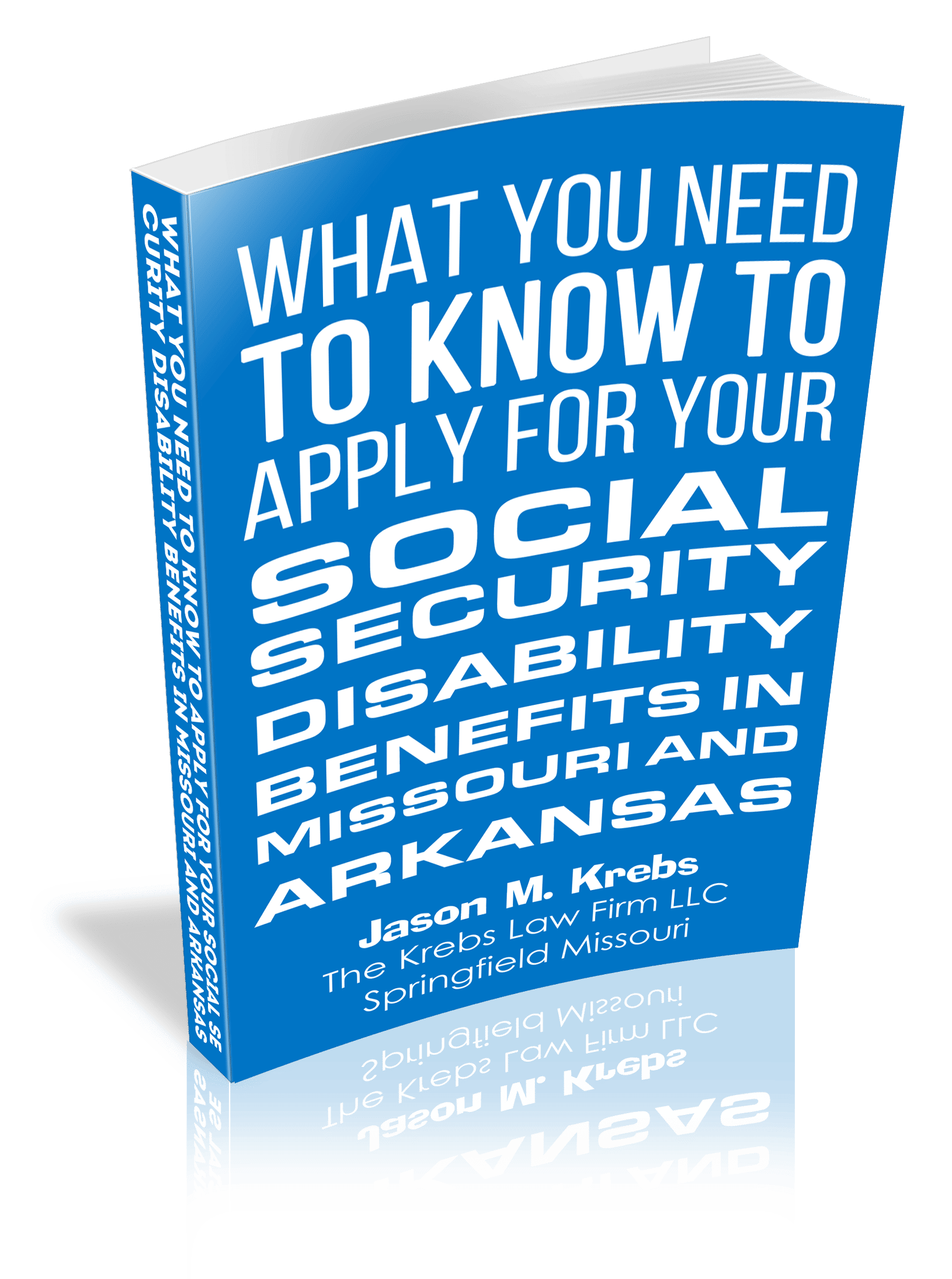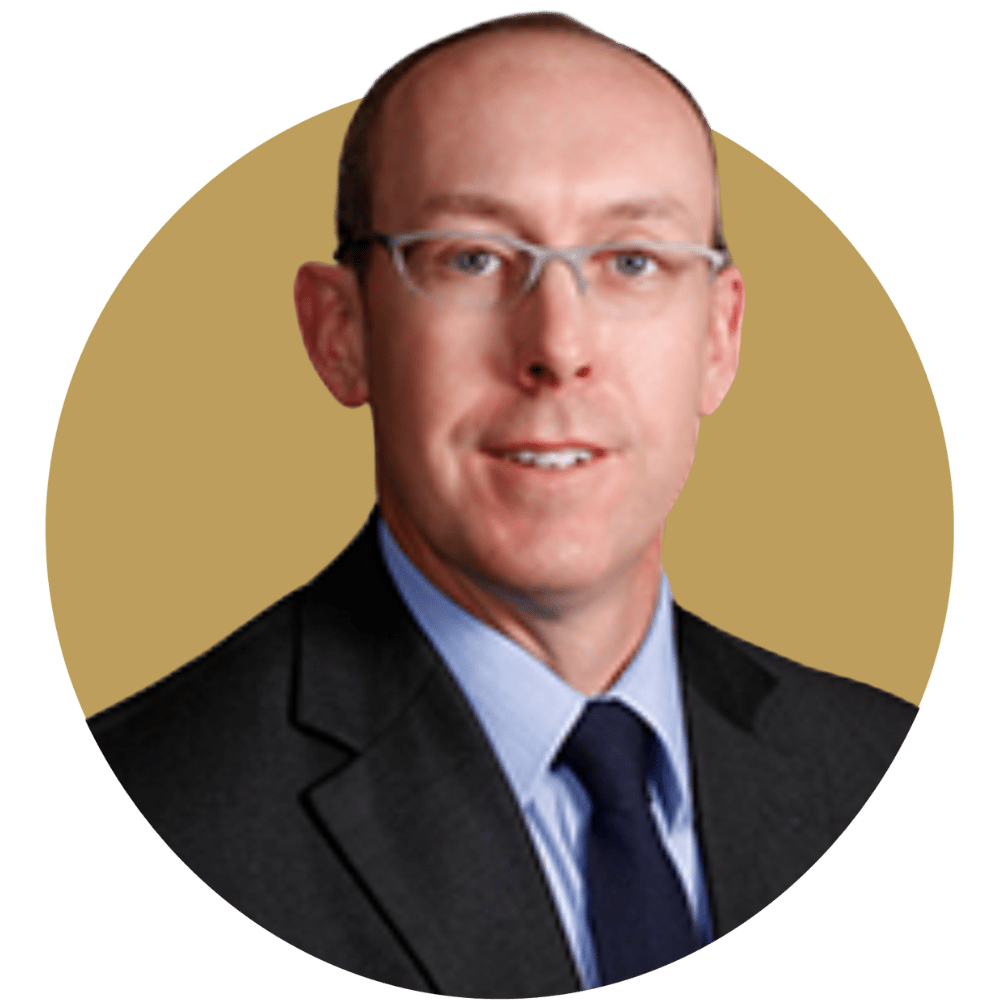 While I can't guarantee ultimate results, I will guarantee our conversation will provide clear, actionable information that you can use to move forward with confidence knowing you've received timely and prudent advice.
- Jason Krebs
"Applying for social security disability benefits can be a stressful and confusing task. Having an attorney who understands the system and is able to explain the process concisely yet in simple terms makes the process more tolerable. Jason Krebs is considerate, thorough, and extremely professional. He is a strong communicator who willingly fights for the…
Read More
Don't risk getting less than you deserve for your case. We're here to help.
You pay nothing until we win
Under the Social Security Act, "disability" means "inability to engage in any substantial gainful activity by reason of any medically determinable physical or mental impairment which can be expected to result in death or has lasted or can be expected to last for a continuous period of not less than 12 months."
There are at least five major types of Social Security disability benefits. Disability Insurance Benefits is the most important type of Social Security disability benefits. It goes to individuals who have worked enough quarters to qualify (generally five out of the last 10 years in most cases) who are now disabled.
Disabled Widow's and Widower's Benefits are paid to individuals who are at least 50 and become disabled within a certain amount of time after the death of their husband or wife. The late husband or wife must have worked enough under Social Security to be insured.
Disabled Adult Child Benefits go to the children of persons who are deceased or who are drawing Social Security disability or retirement benefits. The child must have become disabled before age 22. For Disability Insurance Benefits, Disabled Widow's or Widower's Benefits and Disabled Adult Child benefits, it does not matter whether the disabled individual is rich or poor. Benefits are paid based upon a Social Security earnings record.
Supplemental Security Income benefits, however, are paid to individuals who are poor and who are disabled. It does not matter for SSI whether an individual has worked in the past or not. SSI child's disability benefits are a variety of SSI benefits paid to children under the age of 18 who are disabled. The way in which disability is determined is a bit different for children.
The best way to file a Social Security disability claim is to go to the nearest Social Security office in person and wait (often for a few hours) to see someone to file the claim in person. In the alternative, a person may contact Social Security by telephone at (800) 772-1213 and arrange for a telephone interview to file the claim. You may also apply online at www.ssa.gov.
Springfield:
1570 E. Battlefield, Springfield, MO 1-877-850-7824
Columbia:
803 Gray Oak Drive, Columbia, MO 1-866-563-9108
Joplin: 
4102 S. Arizona Drive, Joplin, MO 18696-964-7421
Lake of the Ozarks: 
129 Scott Station Road, Jefferson City, MO 1877-405-9803
Lebanon: 
2546 S. Jefferson Avenue, Lebanon, MO 1866-931-7104
Rolla: 
1813 E. 10th Street, Rolla, MO 1573-364-8060
West Plains: 
1612 Imperial Drive, West Plains, MO 1866-614-2741
No. Only SSI is concerned with your income and assets. Other forms of disability are not.
It depends. The typical amount of time you must work to be "insured" is five out of the 10 years under Social Security before becoming disabled, you will have enough earnings in to potentially qualify for Social Security disability benefits. If you are under age 31, the requirements are on a sliding scale, since you have not had as long to work.
Unless a person has been staying home and taking care of their children for quite a long time, however, it is very possible that they will qualify for Social Security disability benefits based upon their own earnings. Also a homemaker, if poor enough, can qualify for Supplemental Security Income (SSI) whether he or she has worked in the past or not.
No. You can file immediately. You can file for Social Security disability benefits on the very same day that you become disabled. Many individuals make the mistake of waiting months and even years after becoming disabled before filing a Social Security disability claim. If you believe you suffer from a serious illness or injury and expect to be out of work for a year or more, you should not delay in filing a claim for Social Security disability benefits.
Yes you can. Social Security is supposed to consider the combination of impairments that an individual suffers in determining disability. The majority of people who apply for Social Security disability benefits have more than one health problem and it is the total effects of all of the health problems and the medication side effects must be considered.
Social Security is supposed to gather your medical records and carefully consider all of your health problems, as well as your age, education, and work experience. In general, Social Security is supposed to decide whether you are able to do your past work. If Social Security decides that you are unable to do your past work, they are supposed to consider whether there is any other work which you can do considering your health problems and your age, education, and work experience.
After you file a Social Security disability claim, the case is sent to a disability examiner at the Disability Determination agency in your state. This individual, working with a doctor, makes the initial decision on the claim. If the claim is denied and the individual requests an appeal in Missouri, (in Arkansas and Oklahoma you will request for reconsideration), the case is then sent to another disability examiner at the Disability Determination agency, where it goes through much the same process.
You need to file an appeal within 60 day of your denial. If a claim is denied at reconsideration, the claimant may then request a hearing. At this point, the case is sent to an Administrative Law Judge who works for Social Security. The Administrative Law Judge makes an independent decision upon the claim. This is the only level at which the claimant and the decision maker get to see each other.
Social Security has to consider age, because that is what the Social Security Act requires. As people get older, they become less adaptable, less able to switch to different jobs to cope with health problems. A severe foot injury which might cause a 30- year- old to switch to a job in which he or she can sit down most of the time, might disable a 60- year- old person who could not make the adjustment to a different type of work. Read more about how being over 50 impacts disability claims.
Be honest and complete in giving information to Social Security about what is disabling you. Be sure and list all of your impairments and medications. Also, it is important to be specific in listing your job duties. [See prior stuff] Many claimants, for instance, fail to mention their psychiatric problems to Social Security because they are embarrassed about them.
In almost all cases, individuals who were slow learners in school fail to mention this fact to Social Security, even though it can have a good deal to do with whether or not the Social Security disability claim is approved. Beyond being honest and complete with Social Security, the most important thing that you can do is just keep appealing and hire an experienced person to represent you.
It is important to appeal because most claims are denied at the initial level, but are approved at higher levels of review. It is important to hire an experienced person to represent you because you do not understand the way Social Security works. Statistically, claimants who employ an attorney to represent them are much more likely to win than those who go unrepresented.
For Disability Insurance Benefits and for Disabled Widow's and Widower's Benefits, the benefits cannot begin until five months have passed after the person becomes disabled. In addition, benefits cannot be paid more than one year prior to the date of the claim. For a Disabled Adult Child, there is no five-month waiting period before benefits begin, but benefits cannot be paid more than six months prior to the date of the claim. SSI benefits cannot be paid prior to the start of the month following the date of the claim.
First, do not be surprised or discouraged. The majority of people are denied. If you are denied at the initial level, unless you have already returned to work or expect to return to work in the near future, you should appeal and have an attorney represent you.
No one really knows. There are many theories. One reason is that there is no simple way to determine whether an individual is disabled. Most people who are disabled suffer from pain. There is no way of determining whether or not another individual is in pain, much less how much pain he is in. A second reason is that Social Security over the years has been more concerned with making sure that everyone who is receiving Social Security disability benefits is "truly" disabled than with making sure that everyone who is disabled receives Social Security disability benefits. An underlying reason is that Congress has always believed that, given a chance, many people will "fake" disability in order to get benefits.
There is much variation around the country. In southwest Missouri, the wait is a little more than a year.
The hearings are fairly informal. It is not like a television lawyer show. The only people likely to be there are the Administrative Law Judge, Court reporter, the claimant, the claimant's attorney and vocational expert present to testify at the hearing. There is no jury nor are there any spectators at the hearing. The Social Security Administration does not have an attorney arguing that you should not receive benefits.
Certainly you can return to work. Social Security wants individuals drawing disability benefits to return to work and gives them every encouragement to do so. For persons receiving Disability Insurance Benefits, Disabled Widow's and Widower's Benefits, and Disabled Adult Child Benefits, full benefits may continue for a year after an individual returns to work. Even thereafter, an individual who has to stop work in the following three years can begin receiving Social Security disability benefits immediately without having to file a new claim. In SSI cases, things work differently, but there is still a strong encouragement to return to work.
No. You can go through all of the levels of review on your own if you wish, but statistically, claimants who are represented by an attorney win a good deal more often than those who are not represented.
Social Security is not supposed to cut off disability benefits for an individual unless his or her medical condition has improved. When Social Security reviews a case of someone already receiving Social Security disability benefits, it continues benefits in the vast majority of cases. In recent years, Social Security has been doing few reviews to determine whether or not individuals already on Social Security disability benefits are still disabled. This is changing and Social Security should be doing far more reviews in the next few years. However, the vast majority of individuals who are reviewed will see their Social Security disability benefits continued.
You should appeal immediately. If you appeal within 10 days after being notified that your disability benefits are being terminated, your disability attorney can ask that your disability benefits continue while you appeal.