Here's a transcript of the video below of: Why do people get denied the social security in Springfield Missouri part 1 by a disability lawyer
Why do people get denied the social security in Springfield Missouri part 1
Here is the first in a video series about why people in Springfield Missouri get their disability application denied and what things you can do to try to minimize these mistakes.
This is Springfield, Missouri, disability attorney Jason Krebs, and we're going to do a video series on what we see the common mistakes that people make in applying and why they're denied their disability, and how to avoid them, or what things that we can to avoid the things that we can avoid. Before we get too far into that series, there's a couple of general items that you need to understand about the Social Security disability process in Southwest Missouri and Northwest Arkansas.
First of all, it is your responsibility as the person claiming you're disabled or the family member that is claiming that they're disabled, it is their responsibility to prove that they're disabled. It's not Social Security's job to show that you are disabled. They'll do some things to gather some evidence for you, but at the end of the day, it's usually not enough and it's something that you always have to keep in mind that it is your job, if you're the one claiming you're disabled, to prove that you're disabled.
The second thing, and it's one that kind of upsets a lot of people, or it's a hard thing to understand, but it is the fact that you need the money, it is not the relevant factor that Social Security looks at. The fact that you're in desperate straits, the fact that the rent's due and there's no money coming in, is not a factor, it is not evidence of your disability. What's important to understand and probably the third thing I would talk about is it's important to understand that it is your job, again, to show that you're disabled, and how do you show that you're disabled is what is it about your conditions, physical, mental, combination of those two, head to toe, everything that's going on, everything that you're treating for, what is it about those problems that are going to keep you from showing up to work every day, eight hours a day, five days a week, or the direct equivalent, and be a successful, just run-of-the-mill employee?
It's not just your old job, and that's something that a lot of people get fixated on that they can't do their old job and maybe their old job was a high-paying job that they can't do anymore. For most folks, especially everybody under the age of 50, that is something that is not really relevant. They're going to show that you can do something simpler, even though it may not be anywhere close to the dollar amount that you're used to on an hourly rate wage basis, those kind of things are what you're going to have to show that I can't do any job is what you have to show, not just my old job.
A lot of folks, they get fixated on that old job and they don't show that there's other things that they couldn't do. For instance, the fact that you were doing outdoor work all your life, if you're under the age of 50, you're going to have to show that you couldn't do a sit-down job, even though you may have never down a sit-down job, you still have to show that.
In the next series, we're going to talk about some other things that, common mistakes. My name is Jason Krebs, if you want to give us a call, our number is 417-883-5886. We have free downloadables on the website at krebslawoffice.com. That's krebslawoffice.com. You can download our free books about the application process and the appeals process. Thank you.
What can a Missouri resident do to help make the review process for their SSD benefits application as fast as possible? Download my FREE ebook to learn what things you can do to avoid the most common mistakes.
Click Here to Download a Free Application Guide Now
In most cases the only thing that an applicant can do is to make sure that the application is as complete as possible upon the initial submission. This means that all of the requisite medical information is included, as well as the contact information for doctors or other medical professionals so that the SSA can retrieve further documentation, if needed.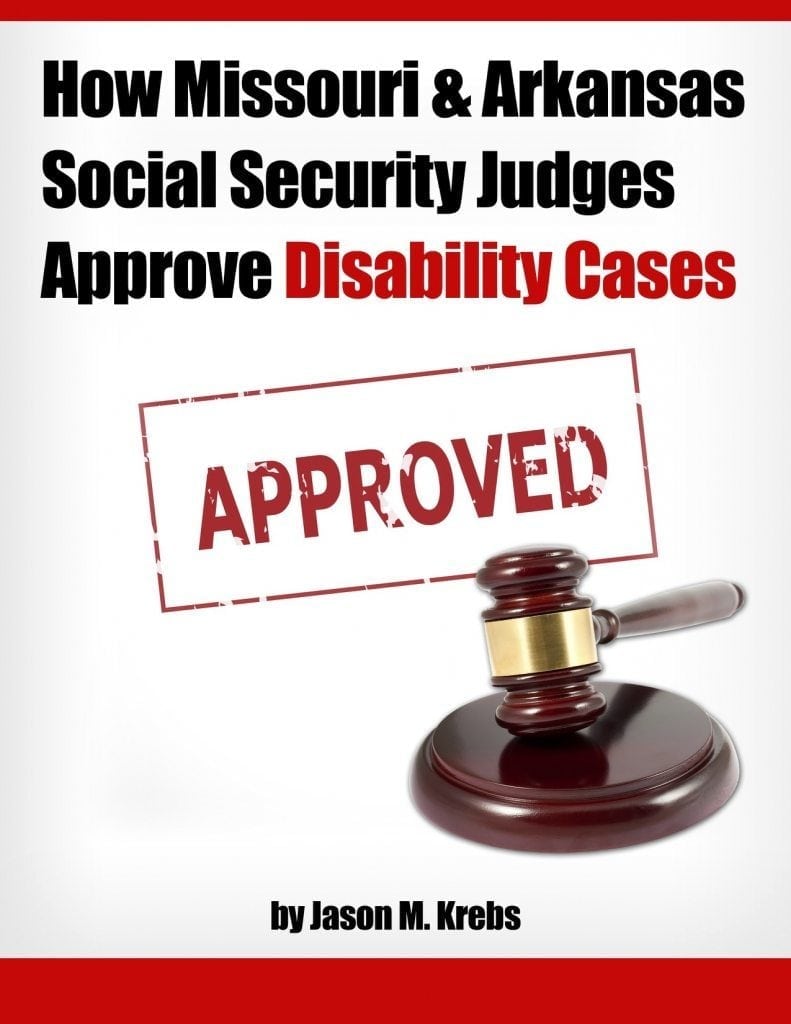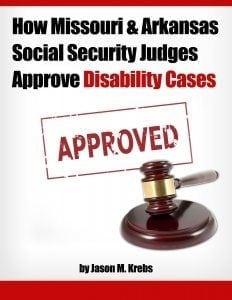 Claim your FREE report now and learn what these Judges are looking for BEFORE you make a mistake that could ruin your claim.
Click Here to Learn How Missouri and Arkansas Social Security Judges Decide Which Claims to Approve
If you would like a free, no obligation case evaluation click below and answer a handful of simple questions.
Please note that filing out this form does not mean my office has accepted representation and no attorney client relationship is formed by submitting this form.
Also filing out this review form is not filing your appeal and this website in no way related to the Social Security Administration.