A prospective client recently asked "who is the best disability lawyer in Springfield Missouri?"
I don't know the answer to that question. Other firms certainly take more cases. Some firm business model is to take anyone that walks into their office. These firms conduct a volume business and hope that they win a large enough percentage of cases to offset the losing cases.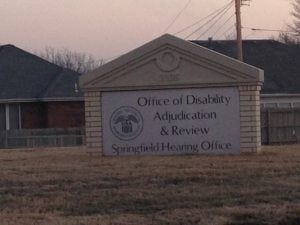 How can you tell if the Springfield Missouri disability law firm you have hired or are looking to hire is that type of firm?
1)  did you meet with an attorney or an "intake specialist" when you went to their office?
2)  if it was a lawyer, was it the lawyer's name is on the door?
3)  did you meet with the disability lawyer who is going to try your case for you? If you've been with that firm for a while, do you know the lawyer that will try your case?
4)  did you meet with your attorney prior to the hearing or did someone call your name at the hearing office 10 minutes before the hearing?
5)  can you get anyone to call you back once they take your case let alone speak with your lawyer?
If the following sounds like the experience you have had, you may be just a number in your lawyers office no different than the number the Social Security Administration has given you.
Many firms advertise about their vast experience, which can be a wonderful thing.   However if you are one of thousands of cases, does the lawyer that got your file the morning of your hearing really know the facts of your case to present your best chance of winning? It may be wonderful that a firm has handled thousands of cases, but shouldn't you be more concerned about the one case that matters most, yours? The lawyer that is going to spend the time on your case to know the facts of your disability, that is the best disability lawyer in Springfield Missouri for you.
Please call Jason Krebs of the Krebs Law Firm LLC for a personal approach as your Springfield Missouri Disability lawyer case that ensures you are prepared and educated on the process. The consultation is free.
People may be worried that they do not have the money to pay for a Springfield Missouri disability attorney, but we only handle Social Security cases on a contingent fee basis. In other words, there is no fee unless we are successful in getting you the benefits that you deserve. If you would like to speak to Jason Krebs and his staff simply call (417) 883-5886 for your free case evaluation or to discuss your appeal today! Do not delay as you only have 60 days to file your appeal or ask for a reconsideration if you live in Kansas, Arkansas or Oklahoma.