Auto accidents in Arkansas don't only impact the ones who were driving. Often, drivers have passengers in their cars with them. If you're in a situation where you're a passenger who has been involved in an auto collision, it's important to know what your rights are and if you're entitled to compensation.
If you were a driver or a passenger in a car that was involved in an Arkansas car accident, then you should contact an Arkansas auto accident attorney immediately. There may be evidence that needs to be preserved that may be lost or destroyed that could have a negative effect on the money you may receive.
In most cases, the rules for passengers are the same as those of drivers. If you as a passenger are injured because the driver of the vehicle that you're traveling in is involved in a single-vehicle accident, such as crashing into a tree due to the negligence of the person you are riding with, then you may be able to file a claim under the driver's insurance.
If another vehicle is involved such as a head-on collision, then the passengers may consider making an Arkansas personal injury claim under the insurance of whichever driver is at fault.
In some instances, you may even pursue both drivers. If the amount of coverage you receive from a claim on the driver that you were traveling with isn't enough to fairly compensate for your injuries, then you could attempt to make an additional claim against the other driver as well.
An exception to this case could be if the driver that you're traveling with is a close relative of yours, such as a parent or sibling, then you're likely under their same insurance policy and cannot pursue a claim.
It's important to contact an Arkansas auto accident attorney to discuss your claim as soon as possible. It's a free consultation to see if we can help so there is no risk.
Keep in mind that there are additional methods to utilize for compensation aside from insurance claims. While waiting on your claim to be processed, check your own insurance policy's declarations page to see if it provides medical payments coverage, which can assist in helping pay for some medical bills quickly regardless of who was at fault for the accident.
Consult An Experienced Arkansas Car Accident Lawyer
The Krebs Law Firm has the experience you need to back up your case and determine where the fault really lies. Get the compensation you rightly deserve with as little stress as possible. Call our office for a free consultation at (870) 741-8100 or toll free at 800-345-0535.
There's no denying that it can be complicated trying to figure out how to properly handle insurance matters after an Arkansas car accident occurs, especially as a passenger. Even more so for an Arkansas motorcycle accident.
That's why it's important to have someone on your side who knows the laws in Arkansas to get you the fair compensation that you're entitled to. Look to the services of a professional injury attorney for peace of mind and maximum results. The Krebs Law Firm is here to help.
For more information about taking action after an accident, as well as great tips for protecting your rights, request a free copy of our book.
If you want more information about what you should do after an accident and learn more about common missteps (and how to avoid them) order your copy of our free book before you speak with another lawyer or anyone from the other drivers' insurance company.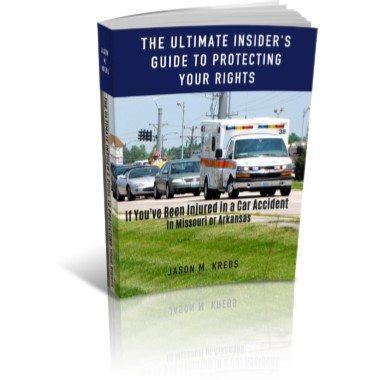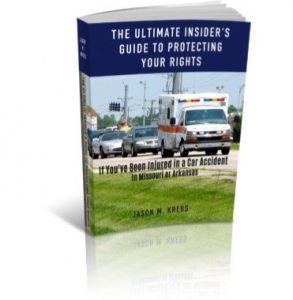 The situations where a victim would benefit from legal representation in an accident claim far outnumber situations in which having an attorney is unnecessary. Fortunately, we are here to provide you with the assistance you need after a car accident in Arkansas. When you are ready to take the next steps, contact us at (870) 741-8100 for a free, no-obligation consultation from a car accident lawyer in Harrison Arkansas.