I have spoken to several folks recently who have pending Missouri social security disability appeals that they have filed themselves. They are just now asking themselves the "reasons why I should hire a Springfield Missouri disability lawyer"  Some have hearings in  less than a month and are just now looking for a disability lawyer to help them with their case.  The problem with the cases I have recently seen is a lack of medical evidence.  Medical evidence is now more important than ever to win your disability case.  The local Springfield Office of Disability Adjudication and review is currently approving 29% as an office.  The national average is 44%.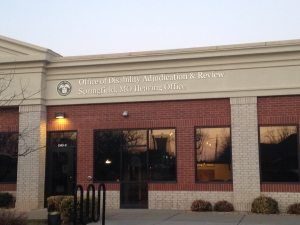 There are things you can do to improve your chances.
1.  Medical documentation.  If you do know have fairly recent medical treatment you have a very difficult case in front of you.  You must exhaust all options for medical care:  that means applying for Medicaid, find sliding scale treaters such as Jordan Valley Community Health, The Kitchen Clinic, Ozarks Counseling Center etc.
2.  Continue treatment and documentations right up to the hearing.
3.  Hire a local social security disability lawyer. Hiring a lawyer that knows the judge and how they conduct a hearing can be invaluable.  Knowing what a certain judge wants to see can make all the difference. Hiring an attorney is by no means a guarantee that you will win, but getting a Springfield Missouri disability lawyer involved as soon as you get your denial can improve your chances.
4.  Look for a law firm that will give you personal attention.  Is the fact that some local firm handles thousands of cases a year a good thing?  They may have experience, but how much time is going to be devoted to the case that is most important to you, your case or your loved one's case?
The Krebs Law Firm LLC offers a free case evaluation if you have questions about your Social Security disability claim. Many people may be worried that they do not have the money to pay for a disability attorney, but we only handle Social Security cases on a contingent fee basis. In other words, there is no fee unless we are successful in getting you the benefits that you deserve. If you would like to speak to Jason Krebs and his staff simply call (417) 883-5886 for your free case evaluation or to discuss your appeal today! Do not delay as you only have 60 days to file your appeal or ask for a reconsideration if you live in Arkansas or Oklahoma.

(Don't worry I won't sell or give your email to anyone)