If you've been involved in a car crash and suffered a serious injury, you want to maximize your chances of getting fair financial compensation. Don't be under the mistaken assumption that just because the car accident occurred through no fault of your own that it will be smooth sailing and you'll get what you deserve without much effort.
As much as we'd like that to be the case, determining who is owed compensation, and how much, can be a very messy matter. Every car accident has its own variety of factors that merit consideration.
Having a professional Arkansas car crash lawyer to help guide you through the process can make a huge difference. At The Krebs Law Firm, we know what which factors tend to carry the most weight and have the largest impact on your compensation.
Severity Of Injury
There is no standard amount of compensation for injuries from a car accident. Some car crashes are more severe than others. For example, a broken foot generally won't have as many medical bills and a long term impact on someone's quality of life as brain damage or a spinal injury.
In the life care plan, there is consideration given for whether these injuries are permanent, if they'll heal over time, how long the healing process will take, and how much the medical care will cost.
Strength Of Medical Records
Insurance companies are always on the lookout for anything that can get them off the hook from having to pay for another driver's medical expenses. To build up the strength of your case, you'll need to build up the strength of your medical records.
That means that you need to seek medical treatment immediately after a car crash occurs, so your doctor can accurately assess your injuries. If you wait a long time to get checked out, it is more difficult to link your medical problems to the car accident. By promptly having your injuries checked out, it shows to all parties involved that you're taking your injuries from the car crash seriously.
Evidence Of Fault
Evidence can make or break your case. The other driver's insurance company won't be expected to pay full compensation for your injuries if the car accident was your fault. Gather up as much evidence as you can that the other driver has responsibility for the car crash occurring, such as eyewitness reports, surveillance footage, or cell phone photographs of the incident.
Consistency
If solid evidence is hard to come by, then it may come down to your word against that of the other driver. Be truthful in your recollection of the account of how the car crash unfolded. If you have trouble keeping your story straight, your truthfulness as a witness may come into question.
Insurance companies often overlook certain factors related to a car accident that don't work in their own favor, so you don't want to fight against them on your own. Jason Krebs has previous experience working for the insurance companies, so he knows what to look out for.
The Krebs Law Firm has years of experience examining all factors involved in car accidents to make sure that a fair, accurate compensation settlement is reached.
Let us put our skills to work for you. Call The Krebs Law Firm for a free consultation at (870) 741-8100 or toll free at (800) 345-0535.
Consult An Experienced Arkansas Car Crash Lawyer
The Krebs Law Firm has the experience you need to back up your case and determine where the fault really lies. Get the compensation you rightly deserve with as little stress as possible. Call our office for a free consultation at (870) 741-8100 or toll free at 800-345-0535.
There's no denying that it can be complicated trying to figure out how to properly handle insurance matters after an Arkansas car accident occurs.
That's why it's important to have someone on your side who knows the laws in Arkansas to get you the fair compensation that you're entitled to. Look to the services of a professional injury attorney for peace of mind and maximum results. The Krebs Law Firm is here to help.
For more information about taking action after an accident, as well as great tips for protecting your rights, request a free copy of our book.
If you want more information about what you should do after an accident and learn more about common missteps (and how to avoid them) order your copy of our free book before you speak with another lawyer or anyone from the other drivers' insurance company.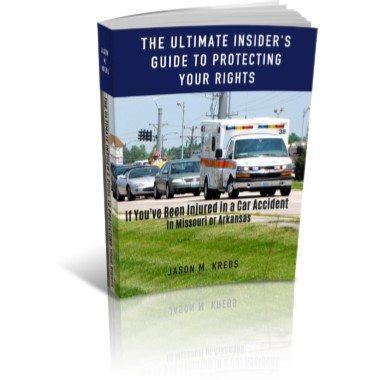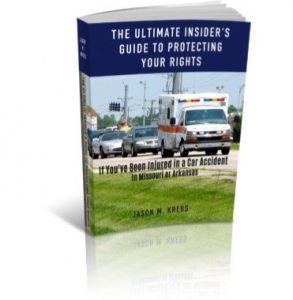 The situations where a victim would benefit from legal representation in an accident claim far outnumber situations in which having an attorney is unnecessary. Fortunately, we are here to provide you with the assistance you need after a car accident in Arkansas. When you are ready to take the next steps, contact us at (870) 741-8100 for a free, no-obligation consultation from a car crash lawyer in Harrison Arkansas.