I've been in a Missouri Car Accident.  What Can I Do to Help My Missouri Car Accident Claim?
The most important thing you can do after an accident is to call the police and ensure an official report is filed.
It's also important that you document the scene and gather some evidence to the best of your ability, and stay consistent as you relay information to officials or witnesses after the accident.
Then seek medical treatment as quickly as possible.  Waiting 3 weeks and then going to a chiropractor will only hurt your case.  Generally you should start with an MD or DO doctor and work from there.  If the MD/DO send you to a chiropractor, thats fine.  The key is the longer you wait to see a doctor, the more you hurt your case.
The money you may be entitled to as a result of your or your family members injury are based on two types of damages that may be awarded. The first, compensatory damages, is the most common type and covers most areas where you may have suffered a loss. This includes the cost of past and future medical treatment, lost wages, a loss in future earning capacity, pain and suffering, and emotional distress. Punitive damages are intended to punish the negligent driver and are generally only applied if he or she was extremely careless or reckless.
The more you can document your claim, the easier it will be to get fair compensation.  You cannot take too many photos.
What Can I Do to Help My Missouri Car Accident Claim?  Hiring an experienced personal injury lawyer can also strengthen your case.
If you or someone you love have been injured in a Springfield Missouri car accident with and the accident was not your fault, you may have a right to recover compensation for injury including pain and suffering, property damage, lost wages due to missed work and your medical bills. Victims of personal injury and the surviving family of wrongful death victims often have a difficult time choosing an attorney. Many personal injury firms handle a large volume of cases, treating clients as just one of many at The Krebs Law Firm L.L.C., I take a personal approach with our clients.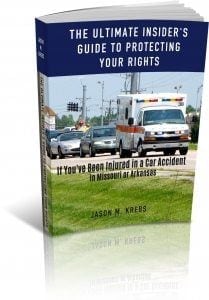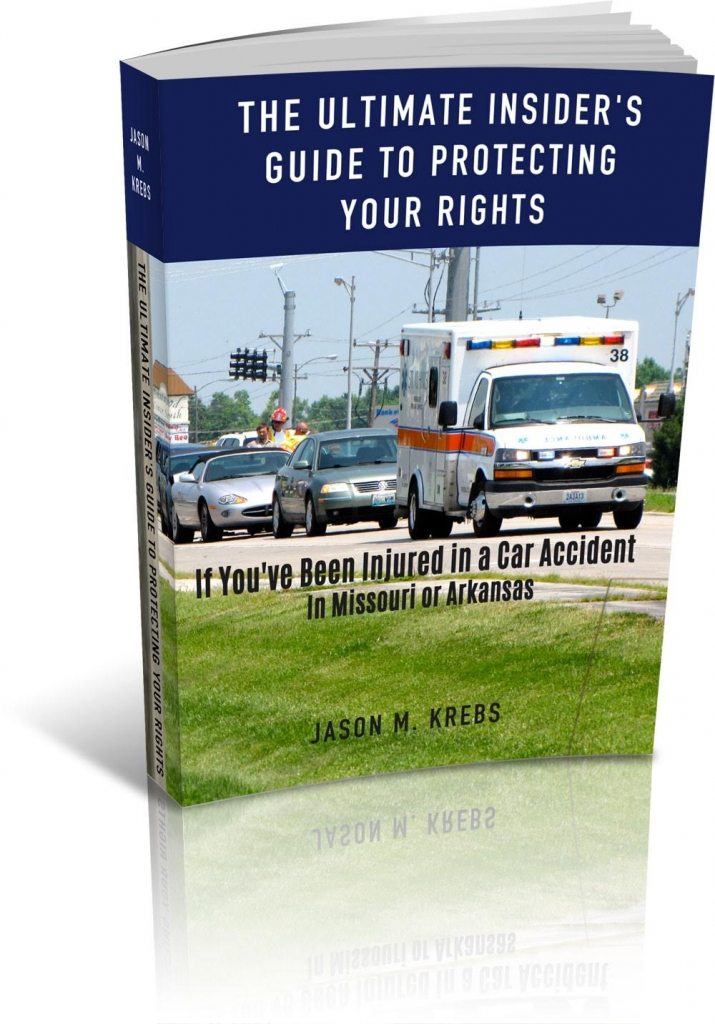 Click Here to Get Your FREE Book
Here's just a taste of what you'll discover when you open the pages of this book:
How to properly handle inquiries from the insurance company… it's sad, but being a "nice guy" and answering "a few simple questions" can cost you dearly!
Keys to determining just how much your case is worth – the many different factors that can literally mean thousands, if not tens, even hundreds, of thousands of dollars.
8 ways to make sure any lawyer you choose to represent you can make the most effective arguments on your behalf.
DANGERS of Facebook, Twitter, Pinterest – the key mistakes you do NOT want to make on Social Media immediately after your accident and while your case is being settled.
What to do if the insurance company offers to pay your medical bills… do NOT just jump at the chance, it could well be a big WARNING sign going off!
6 common mistakes you do NOT want to make that could negatively affect your case in a big way.
Many people may be worried that they do not have the money to pay for a personal injury attorney when they were injured but we only handle accident cases on a contingent fee basis. In other words, there is no fee unless we are successful in getting you the compensation that you deserve. If you would like to speak to me or my staff simply call (417) 883-5886 for your free case evaluation today. 
Also, if you are wondering if location is an issue, I personally handle injury cases throughout all of Missouri.