What to do after a Missouri Semi Truck Accident from a Springfield Semi Truck Accident Attorney
Has a Missouri truck accident caused you to be hurt or caused the death of someone you love?
Missouri  law provides protection to victims of truck accidents, and you may be entitled to compensation for the harm you've endured. A Springfield Missouri truck accident attorney at is here to help protect your rights.  The first question may be what to do after a Missouri Semi Truck Accident?  It is begin gathering evidence.  This may be every difficult if you you or your loved one is severally injured.
I used to represent trucking companies and I can promise you the trucking  company and its trained insurance adjusters will already be gathering evidence to minimize the amount of money they will have to pay. Time is critical to gathering evidence, so let us provide you with the assistance you need.
Call now to schedule a free consultation and get a truck accident attorney in Springfield Missouri working for you to protect you and your loved ones rights.  1 (417) 883-5886 or 1 (800) 345-0535.
Within hours of retaining my services, we will send a team of truck accident investigators to gather evidence to support your case.
If necessary I will  come to you and begin putting together a strong claim, but we'll also answer questions you may have including:
What do victims need to prove to get compensation after a Missouri truck accident?
When can you pursue a truck accident case?
How can a Missouri truck accident attorney help you?
What Do Truck Accident Victims in Missouri Need to Prove to Get Compensation?
Truck crash victims can file a personal injury claim, but must prove that they are entitled to compensation because of the negligence or wrongdoing of a trucker or trucking company. Simply having an accident alone is not enough.  To be able to make your case, you need to gather data after the accident. The sooner you hire an attorney, the sooner we can take the necessary steps to preserve the critical information stored on the truck's computer.
There could be up to 30 critical types of data for investigators, such as:
Speed of the semi at the time of the wreck
Maintenance issues with the 18-wheeler
Sudden brake application by tractor-trailer operator
Emails between at-fault trucker and the trucking company
Whether the truck driver exceeded regulated hours on the road
The truck's route before the crash
Jason Krebs used to represent trucking companies and the insurance companies. I know how to gather the necessary evidence to make sure my clients put together a strong claim to receive the highest award possible.
When Can You Pursue a Truck Accident Case?
You can pursue a truck accident case in court, or negotiate a settlement, if a driver's actions or inactions were the cause  of the crash or if a trucking company's negligent policies and procedures caused the accident to happen.
Truck accidents occur for many reasons including:
Inexperienced Drivers
Tired Drivers
Drivers on Drugs or Alcohol
Lack of Proper Brake Maintenance
Lack of Proper Safety Devices (reflectors, lights, etc.)
Speeding
Overweight Trucks
Driving too fast in poor Weather Conditions
Insufficient Federal Safety Inspection
Commercial motor vehicles are subject to the rules and regulations set forth by the Federal Motor Carrier Safety Administration (FMCSA). The main regulations pertain to requirements for vehicle inspection, maintenance, and repair as well as the requirement of documentation that daily inspections are being conducted, and the findings of each inspection. Other important regulations include driver qualifications, training, and hours-of-service; and transportation of hazardous materials. The goal of these rules is to prevent common crashes. If a trucker or trucking company violates FMCSA rules or is unreasonably careless, this can give rise to a claim for compensation. A Springfield semi truck accident attorney will carefully evaluate how your accident happened to help you determine if you have grounds for a claim.
How Can a Springfield Missouri Truck Accident Attorney Help You?
Missouri has more than 1,100 miles of interstate highways and over 32,000 miles in the Missouri Highway system. The Krebs Law Firm LLC provides representation to victims of trucking accidents on all major highways in Missouri including truck accidents on I-44, I-70, I-55, I-29, and on all of the Missouri highways including Highway 60, 65, 76, 125 or 13.
Whether your accident happened on highways or local roads, we can investigate, deal with the insurer on your behalf, and represent you in court if necessary to get compensation. Commercial vehicles are required to carry insurance, and unfortunately adjuster do not have your best interest at heart. It is the insurer's goal to pay as little compensation as possible, so make sure you have a dedicated advocate helping you to fight the insurer and pursue a claim for the full and fair compensation you need and deserve. Call the lawyer who used to repent the trucking companies today to schedule a free case evaluation and learn more about how we can help.
Call now to schedule a free consultation and get a truck accident attorney in Springfield Missouri working for you to protect you and your loved ones rights. 1 (417) 883-5886 or 1 (800) 345-0535.
Again, time is of the essence however if you are not ready to speak to someone, we do offer a free book. Unfortunately, if you attempt to pursue a claim without the assistance of an experienced attorney, you cannot go back and undo what you have already done. Learn more about these missteps (and how to avoid them) in my free book before you speak with another lawyer or anyone from the other drivers insurance company.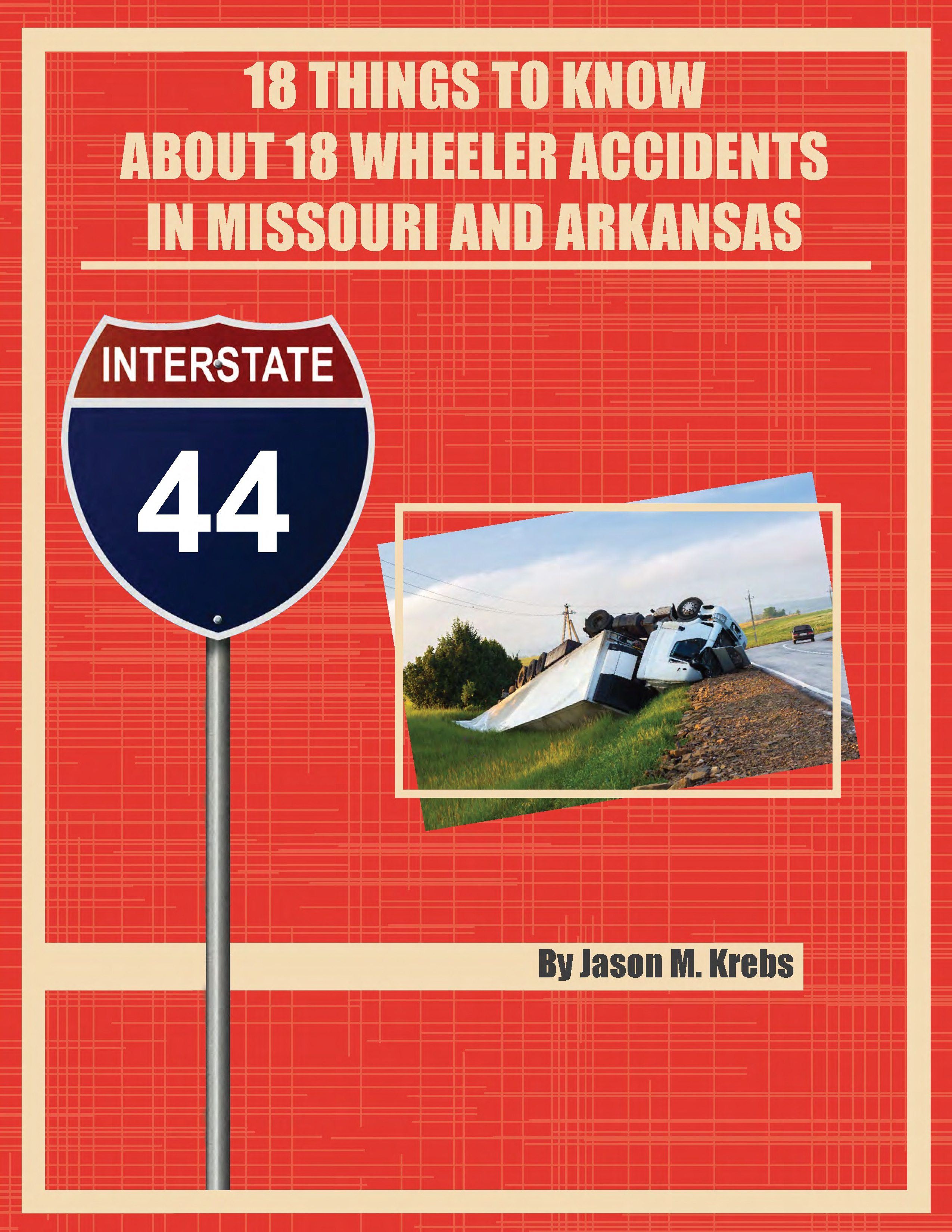 Clearly, situations where a victim would benefit from legal representation for a Semi Truck accident claim far outnumber situations in which having an attorney is unnecessary. Fortunately, we are here to provide you with the assistance you need after a crash. When you are ready to take the next steps, contact me at 417 883-5886 or Toll Free a 1800 345-0535 for a free, no-obligation consultation.
We are located at 2838 S. Ingram Mill Road Springfield Missouri but handle cases all over Missouri and Arkansas.
Here are the different elements of what you'll experience during this in-depth consultation:
A Real, Live Face-to-Face Meeting. We'll meet face-to-face to discuss the specific details of your accident and what happened. You won't be filling out a web-based data entry form, sending an email, sitting on hold waiting for a real human to answer – you and I will sit down in a room and talk things through. We'll get to know each other the old-fashioned way – where we can share and learn from each other.
A Comprehensive Situational Assessment. I'll let you tell your story in your own words – you talk, I listen. As appropriate, I'll ask questions to help you recall ALL the details – to make sure we both end up with an identical picture of exactly what happened that put you in this situation.
A Preliminary Documentation Review. I'll conduct a preliminary review of any supporting documentation you have that's relevant to the accident and situation – this includes photographs, accident reports, police investigation notes, citations, and any witness statements. In addition, I'll review information about your accident and injury, which could include repair bills, doctor's notes, emergency room notes, photographs, X-Ray results and MRI results. In addition, I'll check to see how your automobile insurance and health insurance factors into your current and potential future situation.
An Honest and Open Q&A Session. I'll answer any questions that you may have – such as how medical treatments will get paid for, how long the overall process will take, potential awards from the Insurance company, costs of litigation, and more. I'll be open, honest, and do everything I can to answer your questions to the best of my ability.
Your Customized "Next Steps to Fairness" Proposal. Finally, after going over your situation, I'll lay out in clear, easy-to-understand language, what I see as the strengths and weaknesses of your case. In addition, you'll walk away with specific suggestions on what I see as your best course of action moving forward.
GUARANTEE: While I can't guarantee ultimate results, I will guarantee our conversation will provide clear, actionable information that you can use to move forward with confidence knowing you've received timely and prudent advice.